Cattle Feed Plant - Jind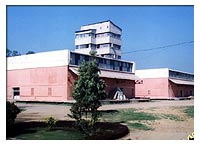 HAIC's Cattle Feed Plant at Jind (Haryana) produces ISI & non ISI marked cattle feed in pallet form under the brand name of HARAMRIT.
As per statistics available, cattle population in India is maximum as compared to cattle population of other countries but milk production is not upto the mark in comparison with other countries. One of the main reasons of low milk production is due to the fact that cattle in India are deprived of a balanced diet.
This problem can be solved by feeding the cattle with a well balanced cattle feed. There are other factors also urging the promotion & use of scientifically manufactured cattle feed. Some of these factors are:
Depletion of grazing fields due to urbanization.

Increasing risk of road accidents in case of cattle being left in the open for grazing.

Due to floods/drought conditions, cattle is deprived of green fodder.

The traditional fodder gram, cakes are costlier and do not provide required balanced parameters of protein/fat etc. to the cattle.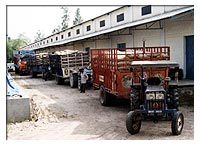 Keeping these in view, Haryana Agro Industries Corporation Limited set-up a modern and semi-automatic Cattle Feed Manufacturing Plant at Jind with production capacity of 30,000 MT per annum. This plant was created and designed by National Dairy Development Board, Anand (Gujarat) was commissioned in 1974.
HARAMRIT
HAIC is manufacturing balanced cattle feed under the brand-name of "HARAMRIT", both in mesh and pellet forms. HARAMRIT cattle feed contains the following merits:
1. It is well balanced, tasty and digestive.
2. It is cheaper than traditional fodder.
3. It keeps the animals healthy and protects them from diseases.
4. It increases the milk yield and fat. It is easy to serve to the cattle.
5. It helps the animal to conceive on time.
HARAMRIT cattle feed has specification as under:
1. Moisture : 11% Max.
2. Crude Protein : 20% Min.
3. Crude Fat : 2.5% Min.
4. Crude Fibre : 12% Max.
5. A.I. Ash. : 4% Max.
Specification of Cattle Feed
HAIC is producing Type II, ISI marked cattle feed.
HAIC can produce Type I cattle feed if demand is received.
Cattle Feed
Moisture
CP
EE
CF
AIA
UREA
TypeII ISI Marked

11%
Max

20%
Min
2.50%
Min
12%
Max
4%
Max
1.00%
Max
TypeI
11%
Max
22%
Min
3%
Min
7%
Max
3%
Max
1.00%
Max
Marked Cattle Feed
| | |
| --- | --- |
| Particulars | Packing |
| Cattle Feed (ISI Marked) | 60 Kg. gross (jute) |
| Cattle Feed (ISI Marked) | 50 Kg. HDPE |
| Cattle Feed (ISI Marked) | 40 Kg. HDPE |
| Cattle Feed (ISI Marked) | 50 Kg. gross (jute) |
| Cattle Feed (Pusa Mash) | 60 Kg. gross (jute) |
Note: For further details please contact DGM, Cattle Feed Plant, Jind. Phone: 01681-25610, 25573